Independent Member of Parliament Bojan Glavašević was a guest in Novo dan where he commented on Croatian foreign policy, relations with Serbia and BiH and other topics.
Evaluating Croatian foreign policy Bojan Glavašević he said:
"It is unsuccessful because European issues are not a matter of foreign policy but of European integration. Since Plenković became Prime Minister, only one successful thing can be singled out from all the policies – bringing Croatia closer to the core of the EU. On the level of form, this will happen with the entry into the Eurozone and Schengen, on the formal level it is a successful policy, but it is not the form of the country that makes it successful, but the living conditions and economic situation that Croatia does not satisfy. Our people are still at great risk of poverty, the government has not been successful. And when we talk about foreign policy in the sense of neighborhood, we can't really talk about anything. We had an initiative to impeach Gordan Grlić Radman, and then I mentioned an example of international development aid and cooperation. Croatia receives most of its international aid in the multilateral field. Instead of Croatia offering neighboring countries a concrete idea on how to attract them to our sphere of influence, to make the idea of ​​the EU attractive to them, to be their door, we do not do that because we do not invest anything in bilateral cooperation."
Supraparty successes
He points out that the Pelješki Bridge is not the merit of one person or one party: "Considering that it is a project that has been going on since the first day of independence, I think that all generations of politicians who worked on it can take part of the success." I do not think that this is the success of one government, nor any capital project in one country, it cannot be attributed to any person or party. When the government changes, they like to say that nothing worked before, every time you inherit something that you can say is a great thing, it should be continued and built on. The law on victims of sexual violence, which my colleague Matić and I have been negotiating since 2012, was based on some things that Jadranka Kosor had done earlier. There are supra-party successes."
The idea of ​​a clear European path
He believes that the relationship between the Prime Minister and the state should have been changed a long time ago:
"From the position of a member of the Foreign Policy Committee, I can say that we see little or no co-creation in the Parliament between the two hills, and this has led us to the fact that we currently do not have heads of missions in more than half of the diplomatic missions. This conflict must be resolved, the system is paralyzed. This weakens our influence. If you look at Serbia, Vučić, along with the concept of the Serbian world, which he operationalizes through the idea of ​​an open Balkans to the countries with which he had complex relations, also brings in the sphere of influence of Serbia, Russia, China… Instead of Croatia offering some concept to oppose the idea of ​​the Serbian world, a clear European path, we don't have anything of that type. Our foreign policy was fixed on the electoral law in BiH, they put everything on it, and in the end it didn't change."
He pointed out that changing the law during the election is against all conventions, speaking of Bosnia and Herzegovina. "There is still a problem that the majority of political actors adhere to nationalist policies that have led us to the paralysis of the system. How will we get a different outcome with the same things", asked Glavašević.
"Croatia has not positioned itself as a bona fide partner so far. Our influence on BiH politics was too direct. Serbia's influence was even less fair, even more directed towards separatism. There is little trust among the actors," he added.
"The highest state officials do not have the possibility of a private visit"
He believes that Vučić's attempt to visit Croatia privately is a provocation: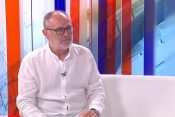 "Of course it was a provocation. The highest state officials do not have the possibility of a private visit – how will they, as a protected person, escape security and cross the border? It is not possible. When he crosses the border as the head of a neighboring country, Croatia has an obligation to protect him. Those protocols are very well established, how much earlier things are agreed upon, and yes, Croatia must give consent for the head of any country to come under the conditions under which he must travel. This was a clear attempt to raise tensions before the Storm, to manipulate the victims of Jasenovac for the purpose of Serbian internal politics. On the other hand, Vučić is working hard on negotiations with the Croats in Serbia, who for the first time got a representative in the Assembly, and it looks like he will enter the Government."
Speaking about relations with Slovenia, he pointed out that the outcome of the arbitration was not bad for either Croatia or Slovenia. He considers the issue of the migrant crisis to be key.
"Despite the verdicts against Croatia for the treatment of migrants, it seems that there has been no change. Plenković's big failure is that he allowed Croatia to be turned into a military country, an inhuman front of the EU where people can be beaten, their rights denied… This needs to be changed, and consenting to this kind of policy towards migrants diminishes us. We can get Schengen, but it's a dirty job that Plenković's government did for I don't know who," said Glavašević.
"There is omerta among HDZ members about that drone"
In the end, he touched on the war in Ukraine and the stray drone in Zagreb. "I asked about the drone several times – there is an omerta among HDZ members about that drone. Peović's colleague asked Plenković what the investigation showed about the drone, and he replied gruffly that it was certainly not his friends who sent that drone, but maybe hers did. We are trying to find out the answer to that question, but Plenković and his ministers are not giving it," Glavašević concluded.
Track N1 via Android apps | iPhone/iPad and social networks Twitter | Facebook | Instagram.