By 2029, the European Union should acquire a fleet of Canadian fire-fighting aircraft that would be owned by it, it was confirmed by the office of Janez Lenarčič, the European Commissioner for Crisis Management.
According to the Slovenian media, the initiative for this was given by Croatia, Portugal, Spain, France, Italy and Greece, and for now there is no Slovenia in the project, which, with the help of the EU and neighboring countries, is fighting a large fire on the Karst that has not yet been extinguished. .
These days in Slovenia, where he visited the burned area, Lenarčič confirmed that in March of this year, the European Commission reached an agreement in negotiations with the manufacturer of firefighting aircraft on the purchase of 12 canards by 2029, whereby the manufacturer would deliver at least two to it by 2026. years.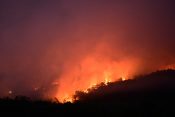 "Now it is up to the member states that participated in that project to sign binding purchase contracts, which would restart the production of canards that had been at a standstill," said Lenarčič for the Slovenian media.
In this way, the Union Mechanism for Civil Protection (rescEU) would get its own fleet of firefighting planes, while now the member states that have such planes can come to the aid of others.
"The fact is that the current situation with fires in part of Europe is critical. At the same time, we have large fires in numerous countries, from Portugal, through Spain, France, Italy, Croatia, Greece, and even this one in Slovenia", said Lenarčič".
He added that this represents a great burden on the national capacities of those countries, considering that more and more requests are arriving for help in shutting down countries that do not have canards.
"However, despite the difficult situation, solidarity has come to the fore again in Europe, countries help each other even though they themselves have problems. Slovenia also received this help," said Lenarčič for the Slovenian media.
When asked about the possibility of Slovenia joining the initiative to purchase 12 Canadian ships for the rescEU fleet, Prime Minister Robert Golob's cabinet answered for the Slovak Press Agency that the Prime Minister had already given clear guidelines to his government.
"A clear guideline has been given to strengthen the state's capacities for aerial extinguishing and to prepare a complete solution that can be acquired expediently and in the shortest possible time. Acknowledging the situation in which many EU members are faced with more and more extensive and frequent natural disasters, Slovenia will also give the initiative to further strengthen such capacities (aerial firefighting) at the level of the European Union", Golob's Cabinet announced to the Slovak Press Agency. WHAT.
Track N1 via Android apps | iPhone/iPad and social networks Twitter | Facebook | Instagram